CSI3*W Budapest
>
Hírek
>
Laura Renwick gains victory in the competition for world ranking points on Friday
Laura Renwick gains victory in the competition for world ranking points on Friday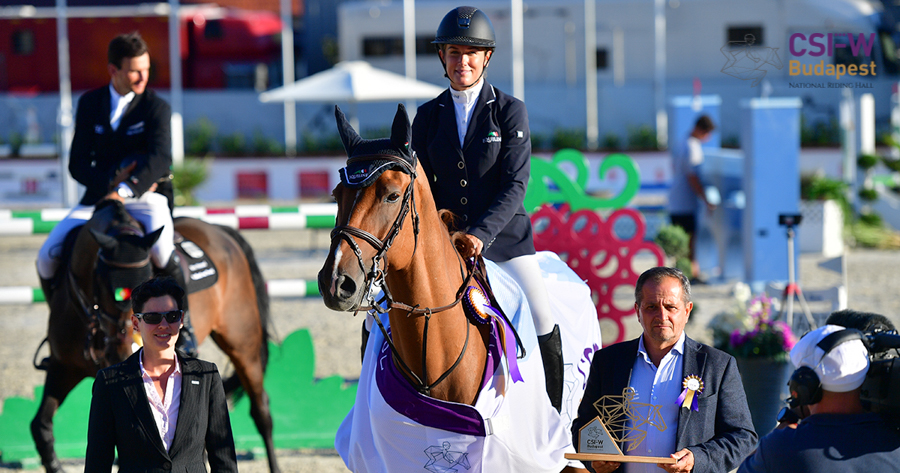 The most anticipated event on Friday was the semi-final of the 25,000 Euro Silver Tour in the Gróf Széchenyi István Memorial for the prize presented by EXIM Bank. Riders also competed for valuable Longines World Ranking points. A total of 118 rider and horse pairs, a record number in Hungary, lined up in the 145 cm competition.
The track designed by László Karádi met the standard of the competition and, as expected, proved a real challenge for all competitors. However, 25 riders qualified for the jump-off including one Hungarian, Attila Técsy, and ex-Hungarian, Henri Kovács, who is currently competing for Finland. Unfortunately, Sándor Török and Landstream 2 did not make it to the jump-off due to a time penalty.
Even the first round was extremely exciting, but the jump-off brought even more anticipation. Everyone could feel the tension as the world's leading riders risked everything for victory. There were many double clear rounds so competitors aiming for the podium had to be really fast. At the end, only very slight differences decided the ranking. The first three riders finished with a time difference less than five hundredths of a second, just like Formula 1 qualifying.
The fastest time was recorded by one of the permanent members of the English national team, Laura Renwick on Dublin V, ahead of Portuguese Rodrigo Almeida and Edgar, who managed to make it to the podium in several competitions this weekend, and Chad Fellows, also representing England on Eindhoven G.H.
Brazilian Yuri Mansur finished fourth in the saddle of Amor. The tournament's favourite, Martin Fuchs, currently second in the world rankings, took only fifth place this time on Cha Mu 4, followed by Gerfried Puck from Austria on For Fun VT. The riders were congratulated by Gyula Budai, chairman of the Olympic Equestrian Coordination Committee of the Hungarian Equestrian Federation.
Attila Técsy achieved the best result among the Hungarian riders on Alkom. After a great clear round he managed to participate in the jump-off of the best 25 competitors. Henri Kovács also made it to the jump-off but in the end neither of the Hungarian riders managed to be placed.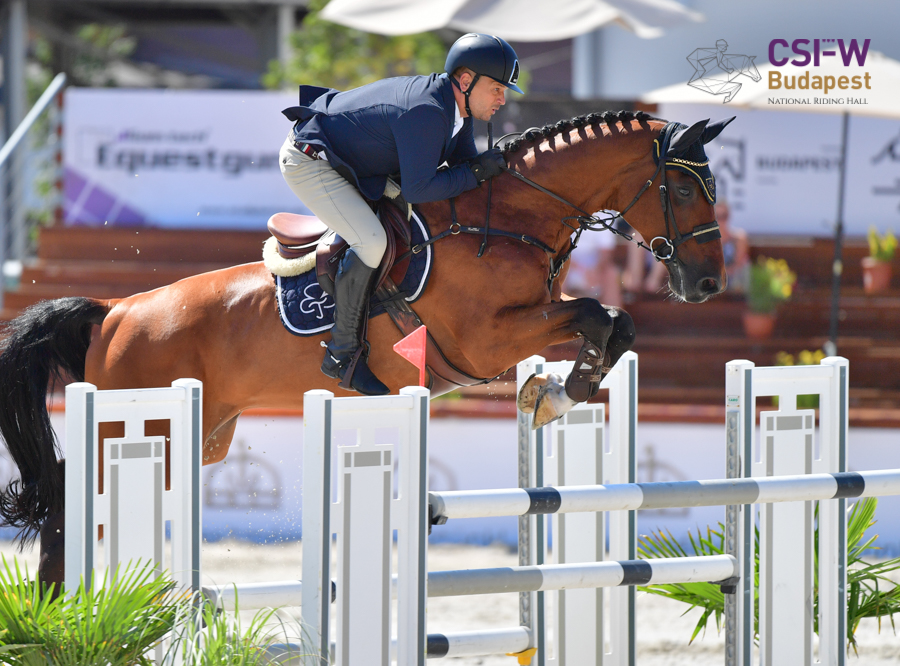 Lizanna Kiss wins opening test for U25 riders
The closing event of the day was the 130 cm competition for U25 riders for the prize presented by ITM. This time ladies dominated in the field of 43 young competitors. Lizanna Kiss, just returning from the CSI for U25 organized in the Czech Republic, recorded the fastest track in the saddle of Cojan, ahead of the frequent winner of the age group, Sára Szabó-Máriás on Cantus Clay.
Third place went to Daniela Theelen from Germany, followed by Péter Szuhai on Chilling Outt, ahead of Flóra Füzér and Dominika Kiss.
Those interested can also follow the event from the comfort of their home. Major competition events will be broadcasted on the Hungarian television channel M4 Sport. The competition events are broadcast live by Riderline:
Health measures to be implemented at the CSI***-w Budapest Show Jumping World Cup >>
Photo: CSIO Budapest / Hajdu Krisztina