On the second day of the Count István Széchenyi Memorial riders competed from 115 to 145 cm in five different competitions. The opening event, the Bronze Tour, brought Hungarian success.
Thirteen-year-old Gyula Szuhai Jr. was the best of the Bronze Tour.
Opening the day was the 130 cm competition for the Prize of the Budapest Equestrian Club. It was an extremely exciting event as the ranking changed constantly and more than half of the field completed clear rounds. The podium and places were taken by local riders and the Chief Officer of the competition, Dorottya Stróbl, congratulated the winners. The fastest of them, with more than two seconds advantage, was a mainstay member of the Hungarian national children's team, 13-year-old Gyula Szuhai Jr. on Chacco Boy.
The second place was taken unusually by two competitors with Balázs Csuka on Timpex Emlék and Szabolcs Krucsó on Caremos scoring exactly the same time.
Tamás Mráz came fourth on Sárripuszta Indigo, ahead of Henri Kovács in the saddle of Quintero and Annamária Zárug on Coolmann. Sándor Török finished seventh on Galestra, and Kristóf Szotyori Nagy eighth on Horze Cym Carlsson S.
Romanian victory in the VIP Tour
In the 115 cm VIP Tour for the Prize of the National Riding Hall, Catalina Sfetea from Romania proved the fastest on Eliot Du Maquis.
There was only a hundredth of a second time difference between the second and third placed riders. The luckiest rider this time was the Hungarian competitor, Olympic silver medallist judoka, Miklós Ungvári.
Third place went to a Russian rider, Daria Kazakova who finished second two weeks ago at the Amateur GP in Hungary.
Simona Donolato closed fourth, Kata Esztergályos fifth and Lili Takács, the winner of the Amateur GP, came sixth.
Hungarian bred horses on the podium in the young horses' competition
The next event was a test for young horses for the Prize offered by Paul Schockemöhle. Here 6-year-old horses competed at 125 cm and 7-year-olds at 130 cm on the same track.
Yesterday's runner-up, László Tóth Jr., didn't give a chance to the others this time either. He completed the speediest clear course on his own bred mare, Ching.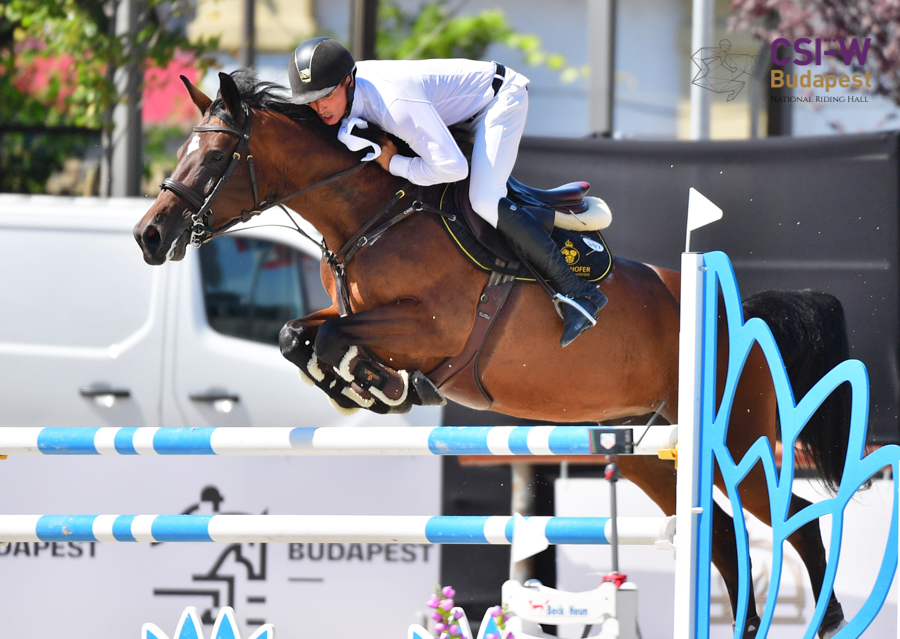 Kristaps Neretnieks from Latvia finished second on Tako Dilait, ahead of Henri Kovács, in the saddle of his own bred horse, Tambourino.
Yesterday's winner, Rodrigo Giesteira Almeida from Portugal, came fourth, followed by Tamás Mráz on El Conthero, and Omar Karaevli from Turkey on Istinov.
Those interested can also follow the event from the comfort of their home. Major competition events will be broadcasted on the Hungarian television channel M4 Sport. The competition events are broadcast live by Riderline:
Health measures to be implemented at the CSI***-w Budapest Show Jumping World Cup >>
Photo: CSIO Budapest / Hajdu Krisztina