Saturday' final competition of the Longines EEF Series Semi Final Budapest CSIO***-W was the 145cm Prize presented by Regale Energy, where the best won not only the €8,000 prize money but could qualify for Sunday's Grand Prix. From 44 pairs competing, fourteen, including four Hungarians, qualified for the jump-off.
The first starter, Sophie Hinners rode a sensational time, so the riders next up had to hurry for a faster track. Among the Hungarian riders, Krisztián Búza, placed sixth on Thursday, had the greatest chance to do so, but his horse Galestra, owned by Eszter Milesz, made a fault at the end, therefore, they finished tenth. Balázs Horváth did not risk that much and on his promising young stallion, the 8-year-old PM Baloustar, he managed to finish in seventh place. Tamás Mráz on Hungarian-bred BN Silver achieved the best placing among the local riders, taking fifth place.
A rare situation in show jumping occurred when the other member of the German team, Jana Wargers, scored exactly the same time, to the hundredth according to the Longines photocell, as her first starting teammate Sophie Hinners. So they gained victory in a dead heat.
Sophie Hinners and Jana Wargers
Philipp Schulze Topphoff, the third member of yesterday' Nations Cup winning team, could not repeat his Thursday victory since not only the two young German ladies were faster than him this time, but Swiss Edouard Schmitz as well, so he had to settle for fourth place.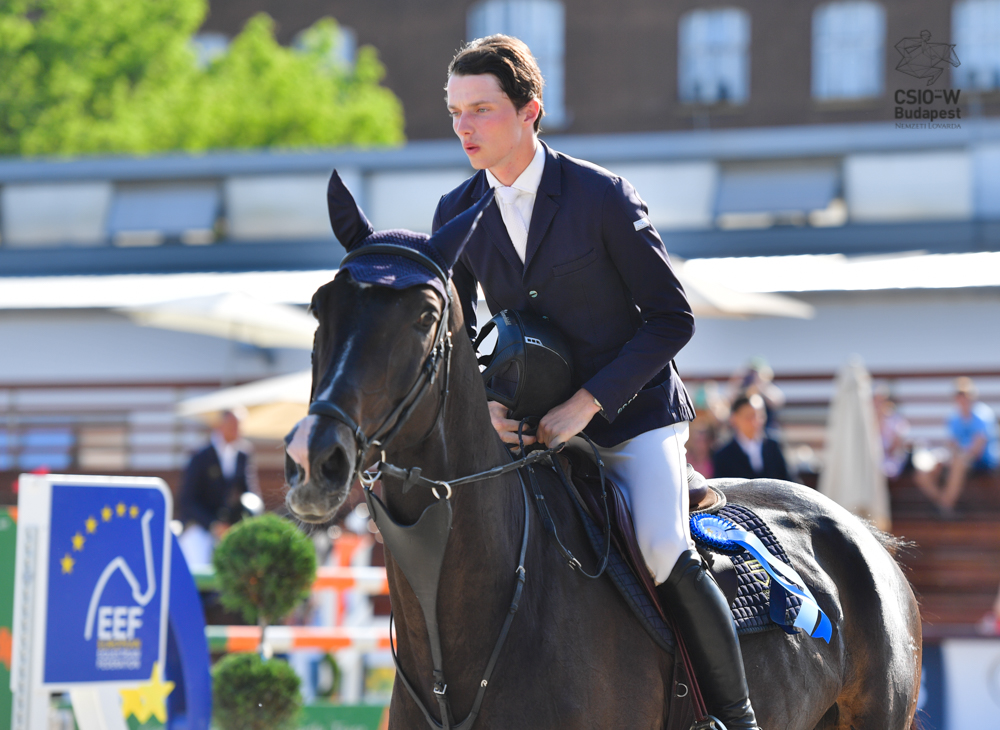 Edouard Schmitz – Quno
After the competition riders were congratulated by Barna Paár, representing Regale Energy, and by Manuel Carvalho Martins, member of the jury.
Live coverage of the competitions can be viewed on the following websites:
Tickets »
Photo: CSIO Budapest / Krisztina Hajdu