A budapesti CSIO***-W Nemzetközi Díjugrató Világkupa szombati napjának záró versenyszáma a Regale Energy díjáért zajlott 145 centiméteren, ahol a 8.000 eurós pénzdíj mellett minősülést is lehetett szerezni a vasárnapi nagydíjra. 44 páros állt rajthoz, akik közül tizennégyen jutottak be az összevetésbe, köztük négy magyar versenyzővel.
Az összevetésben elsőként induló Sophie Hinners szenzációs időeredménnyel lovagolta körbe az emelt magasságú pályát, így az őt követő versenyzőknek mindent meg kellett próbálniuk, ha jobb időeredménnyel szerettek volna célba érni. A hazai versenyzők közül a csütörtökön hatodik helyen végző Búza Krisztián volt ehhez a legközelebb, de Milesz Eszter sárga kancája, Galestra egy szűk fordulóból leütötte a második ugrásként szereplő dobókockás meredeket, így a tizedik helyet szerezte meg a páros ezúttal. Horváth Balázs már nem vállalt ekkora kockázatot, és ígéretes fiatal ménjével, a nyolc éves PM Baloustarral inkább egy biztosabb pályára törekedett, ezzel a hetedik helyet szerezve meg. A legjobb hazai eredményt Mráz Tamás ötödik helye jelentette, aki a magyar tenyésztésű BN Silvert lovagolta.
A díjugratás világában ritka szituáció következett be az összevetés során, hiszen a német válogatott másik tagja, Jana Wargers századra azonos időeredménnyel ért célba a Longines fotocellája szerint, így holtversenyben az első helyen végzett csapattársával, Sophie Hinnerssel.
Sophie Hinners és Jana Wargers
A pénteki Nemzetek Díjában győztes csapat harmadik tagja, Philipp Schulze Topphoff nem tudta csütörtöki győzelmét megismételni, hiszen nem csak a két fiatal német hölgy volt gyorsabb ezúttal, hanem a svájci Edouard Schmitz is leszorította a dobogóról.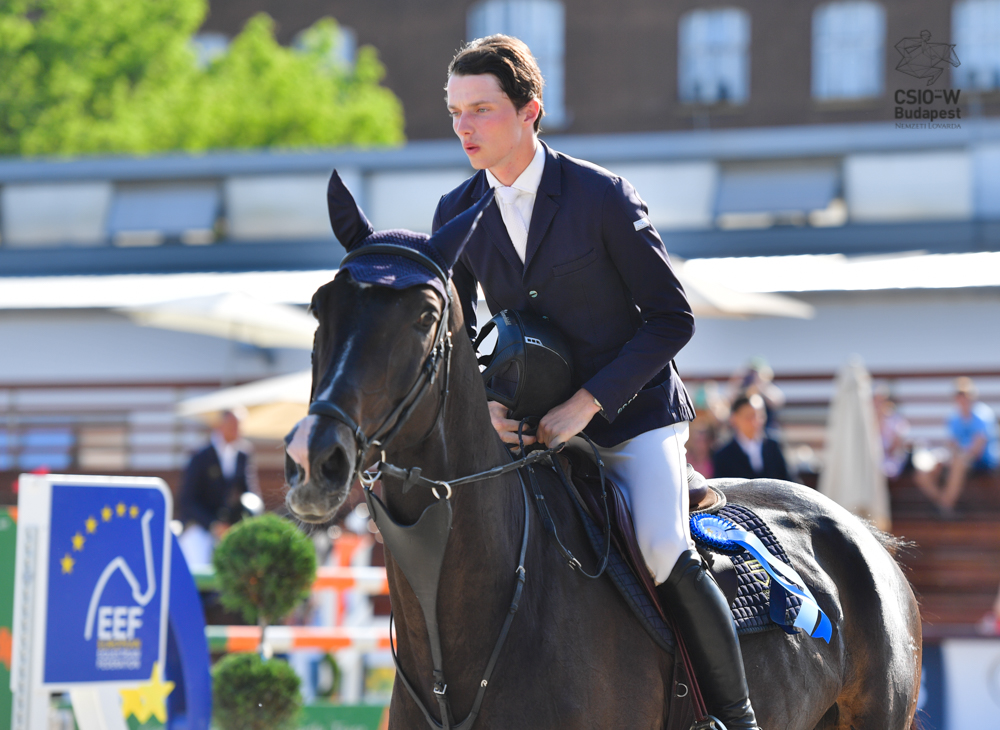 Edouard Schmitz – Quno
A versenyszámban gratulált a Regale Energy képviseletében Paár Barna és a versenybíróság tagja, Manuel Carvalho Martins.
A verseny élő közvetítése megtekinthető a következő oldalakon:
Tovább a verseny részletes programjára »
Fotó: CSIO Budapest / Hajdu Krisztina