A crisp winter morning awaited the competitors of the 120-125 cm Bronze Tour on Saturday. This time, the 53 rider and horse pairs competed in a two-stage event with an interruption, so whoever failed in the first stage could not go on to the second. Lizanna Kiss, who was on good form, won again – this time on her mare Cloé.
Second place went to Krisztián Búza on Erlina, third to Rodrigo Szuhai on Edward Z, followed by Borbála Burucs on Noblesse S, Zsanett Bandi on Quinadore and Kristóf Szotyori Nagy in the saddle of Horze Donald.
The 110 cm VIP Tour, which was a competition against the clock with 11 fences, included a double combination. In a field of 30 competitors places went again to the same riders compared to Friday's similar contest. Ladies occupied the complete podium and this time, Eszter Gorzó, coached by Krisztián Búza, in the saddle of Arwen won the gold, ahead of Gréta Fésűs on Hunter Dadero Z.
Adél Benedek, participant of the Hungarian Talent Programme, on Silva 127 captured third place.
Sándor Busi, multiple Hungarian national amateur champion and senior champion in 2019, finished fourth, followed by Mercédesz Molnár and Lilla Arató.
The field of 29 riders in the U25 competition can be called modest in the CSI 2*W Budapest Show Jumping Competition. The fastest clear round was completed by Eszter Tóvári on Sáripuszta Indigó with a time of 56,54 seconds. This was her biggest success until now.
Balázs Magyar on Lady Winner, coached by Gyula Zárug, took another valuable place, finishing second.
The third place went to Péter Osztovits on Laguilot Z, coached by Attila Janik.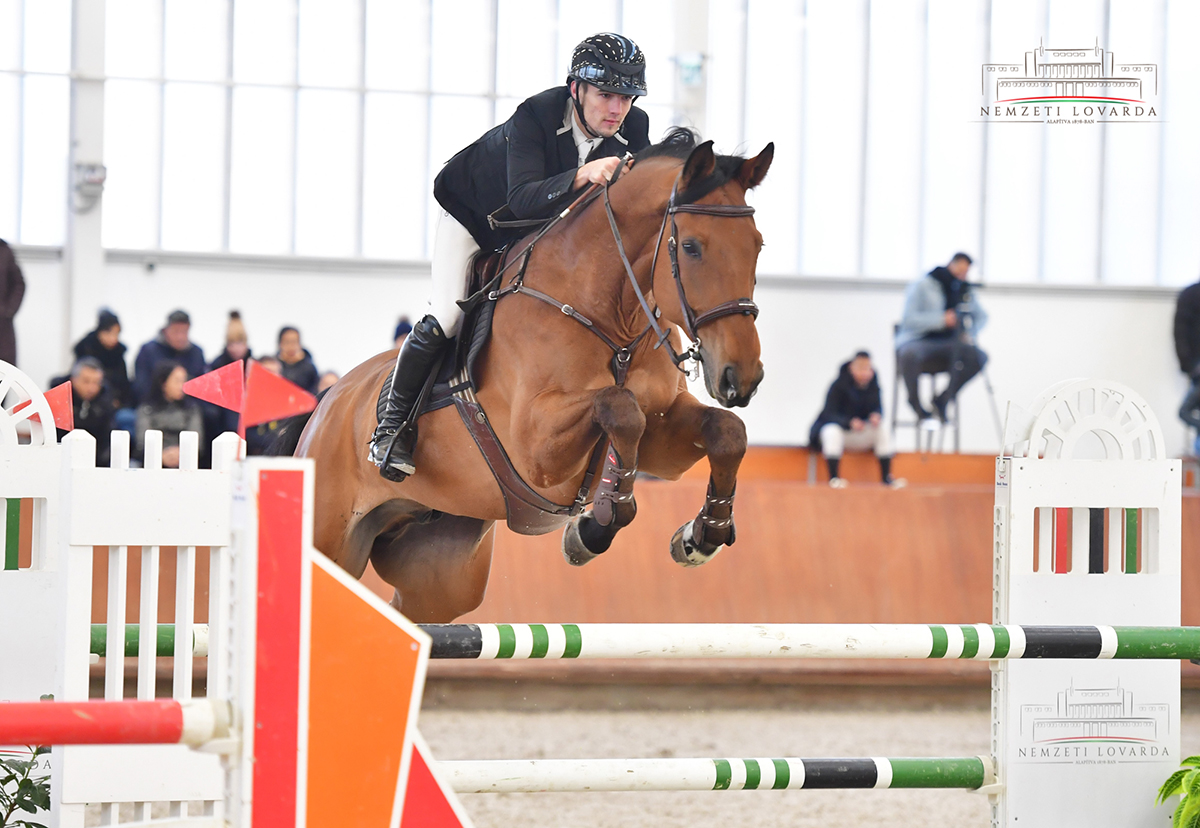 Croatian Patricia Kardun on DI Caprio DH Z captured fourth place, ahead of Miklós Viktor Gráf on Raphael and Dominika Kiss on Spartacus.
The German national anthem closed the 135 cm Silver Tour, a two-stage competition without interruption. Gold place went to Jörne Sprehe on Solero 79. The German rider has already competed many times in Hungary, as he took silver medal in the European Youth Championships at Hortobágy in 2000. He won the World Cup in the Papp László Sports Arena several times and in the summer of 2020 won the Bronze Tour Final in the National Riding Hall.
Friday's winning rider, Szabolcs Krucsó, scored the second place this time on Chippendale.
The second placed pair in Friday's Gold Tour, Austrian Gerfried Puck on Cigol Du Parsis Z, finished third in Saturday's Silver Tour.
Closing fourth, Patrik Zoltán Buza on Janieta VDL could not make the podium in this competition. Attila Técsy on Jubab Van 't Siamshof came fifth and Gerfried Puck on his other horse closed sixth.
Photo: CSIO Budapest / Krisztina Hajdu