The Budapest Show Jumping World Cup goes back 14-years, and the best riders from the region regularly return each year. The National Equestrian Hall's charm is its location in the heart of Budapest, which is a curiosity for equestrian competition venues, and as Christmas approaches, many choose the Christmas market as a post-competition getaway. But it's the three indoor courses, the heated grandstand and the professional organisation that keeps riders coming back year after year.
The most prestigious event on the final day was the 145 cm Grand Prix where 34 riders completed the field. Unlike previous categories, riders were only allowed to compete on one horse, so everyone had an equal chance to win. In the first round eight riders, among them three Hungarian, rode clear qualifying themselves for the jump off.
The first starter, Angel Niagolov had a difficult position, as he did not know what speed the following rivals would set and what course they would choose. He decided for a dynamic but not extremely risky pace which led him to a great speedy clear round. The riders next up tried to ride faster and took more risk.
This year's most successful Hungarian rider, Zoltán Czékus on his young gelding Carundy, scored no penalties in the first round and qualified himself for the jump off. His horse jumped the first two fences easily, but kicked the first rail of the third oxer, so he lost his chance of winning.
The other local rider, Eszter Kalán, best placed Hungarian rider in Saturday's competition for Longines points, also started well and for a long time it looked like she could repeat her astonishing performance from Saturday. She rode the fastest time, but her horse Gareza pushed down the top of the last stone wall.
Zoltán Lázár, Jnr. was the last local rider on 8-year-old Diablo. His horse jumped clear in the first round and in the jump off as well, securing the best Hungarian result, the fifth place in the Grand Prix.
The final rider in the competition was Saturday's Gold Tour winner, Stefan Eder, from Austria. His horse DR Scarpo jumped sensationally all weekend and this did not change. The precise grey stallion gave the maximum and won the Grand Prix as well after Saturday's competition for Longines Ranking points.
The second place went to 20-year-old rider Verena Haller representing Germany. She crossed the finish line with a big smile on her face in the saddle of Carry Anne.
Third place went to Gerfried Puck, another Austrian rider, ahead of Angel Niagolov, Lázár Zoltán, Jnr. and Lidija Grum.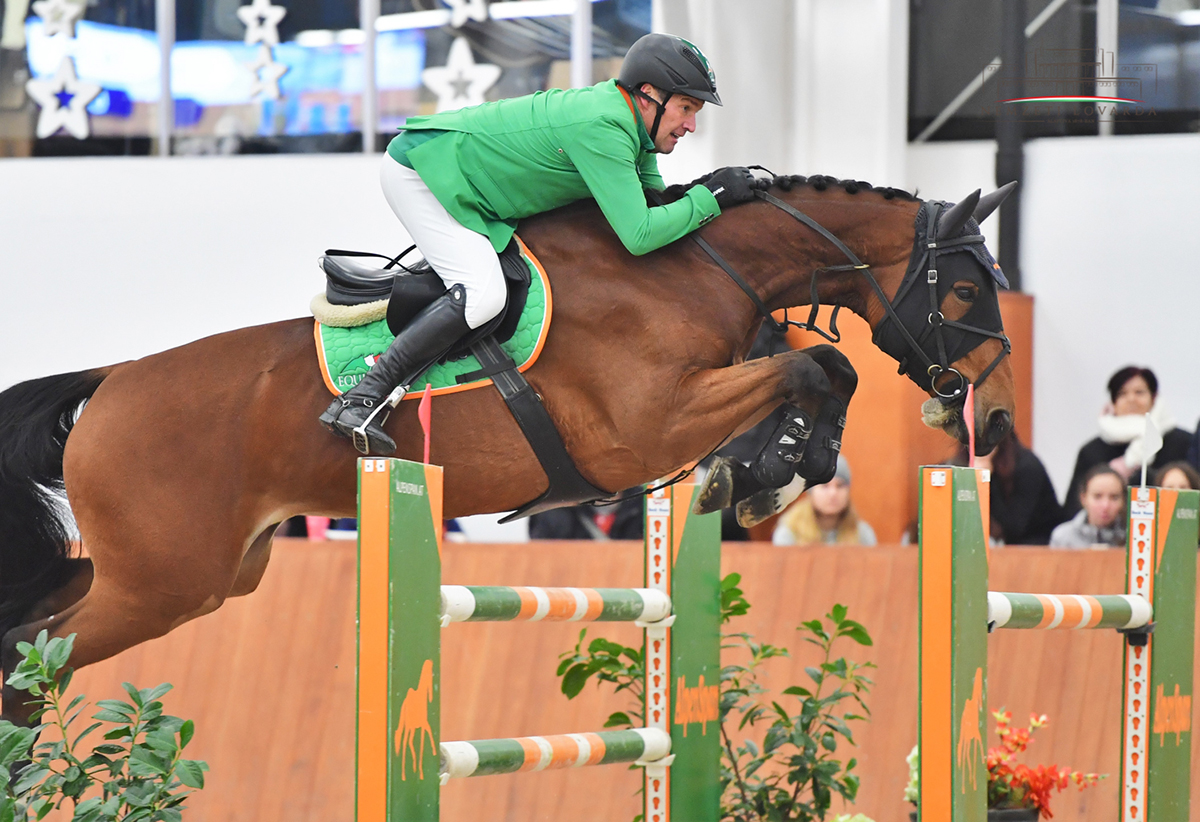 Photo: CSIO Budapest / Krisztina Hajdu