Greek Gold in the CSIO3* Grand Prix Presented by Ministry of Defense
The featured event on Thursday was the CSIO3* Grand Prix presented by the Ministry of Defense. Riders from 15 countries lined up for the €52,000, 150cm competition in sweltering 36-degree Celsius heat.
Swiss course designer, Julien Pradervand built 13 obstacles with 16 efforts at the challenging track where spectators had to wait until the 13th starter to see the first clear round. The most fences fell at a fragile vertical and in the triple jump.
Dutch Wout-Jan van der Schans rode the first clear in the time limit on 11-year-old A S Bombay.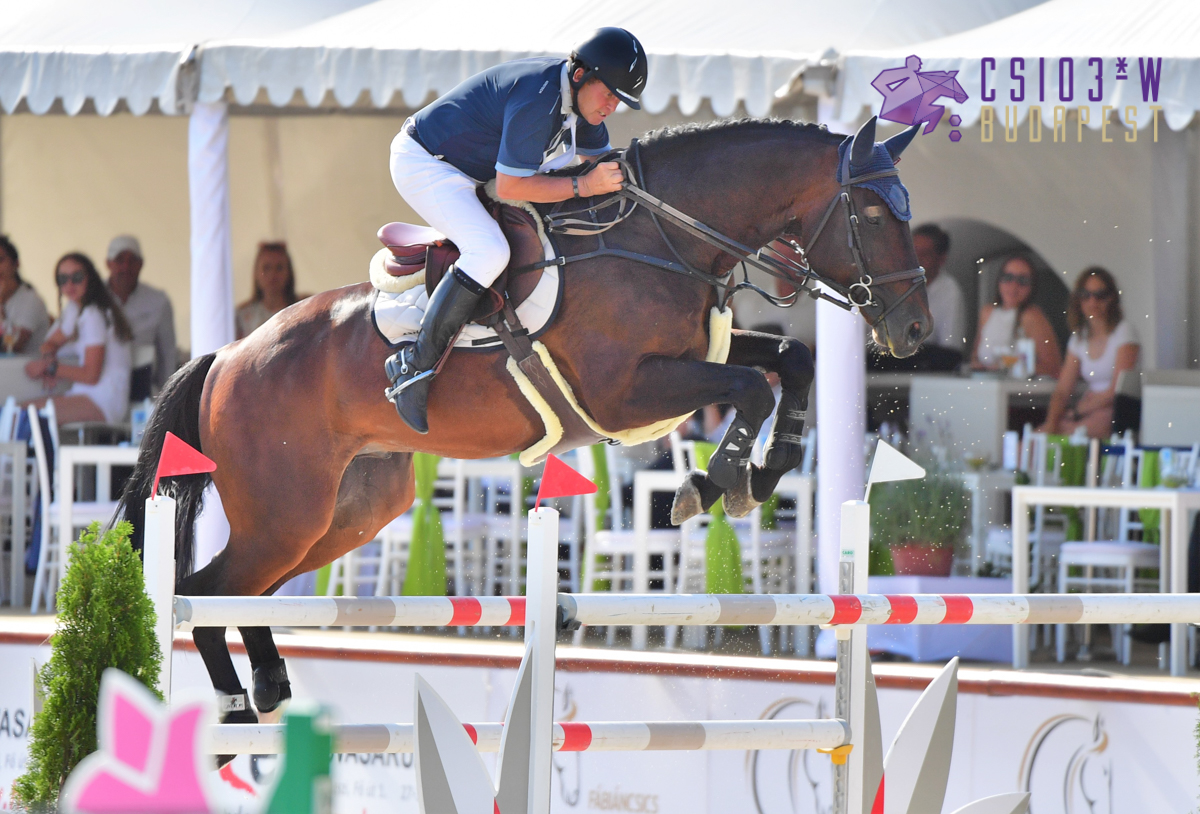 The next perfect ride was showcased by Brazilian Matheus Correa with Zeus, owned by Hungarian Csilla Lévai. Then Jörne Sprehe, a regular and successful German participant in Hungarian competitions, took the lead with a lightning fast ride on Hot Easy.
After him, the Swiss Thibaut Keller with Happy Girl T and Dutch Demi van Grunsven left the course with no penalties. The seventh rider who made it to the jump off was Angelos Touloupis representing Greece. Omar Bonomelli from Italy did not touch any fences but was not fast enough and got time penalties.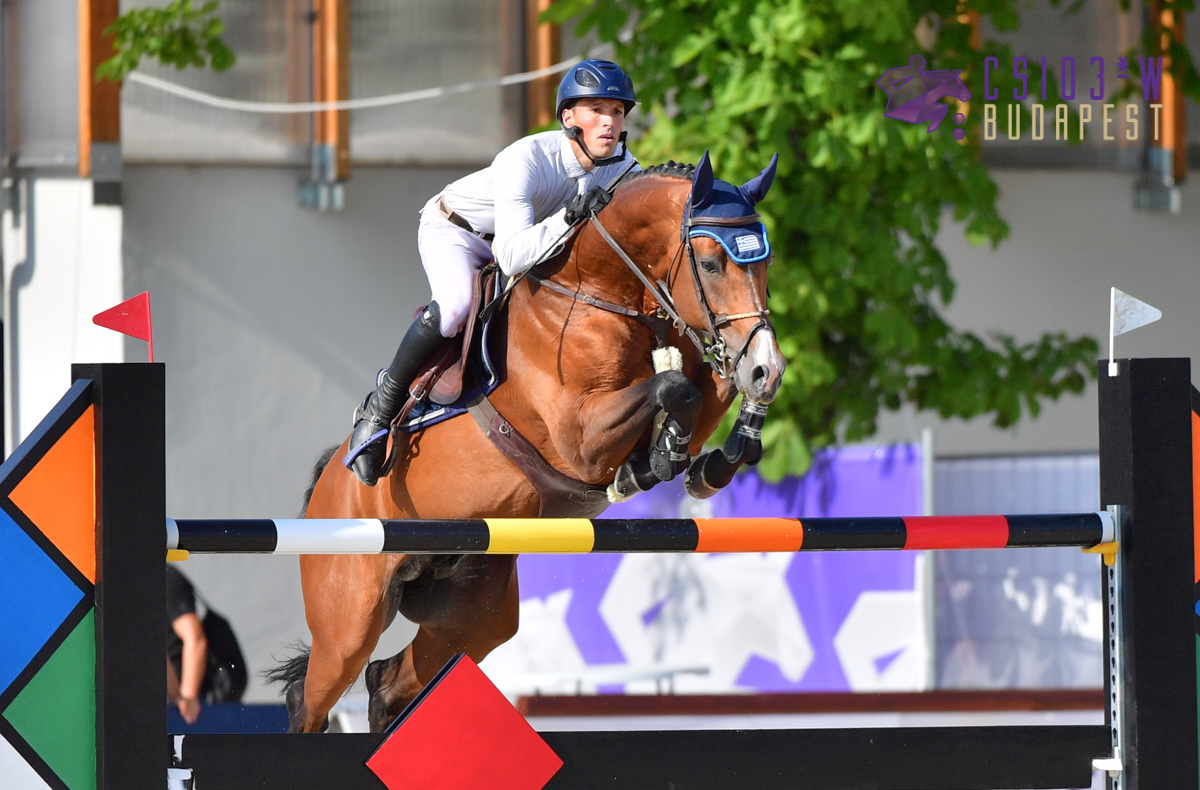 Seven obstacles and eight efforts had to be overcome on the 300-meter course of the jump off. Despite the extreme heat, and a technical and testing first round, several riders were able to make clear rounds again.
The first starter, Wout-Jan van der Schans lost some valuable seconds due to a few kicks by his horse. However, the second rider, Matheus Correa on Zeus could not make is faster than the Dutch pair. Then came German Jörne Sprehe and took the lead with another quick clear. He seemed to prevail until last rider, Angelos Touloupis with Lord Mexx, who posted not only a double clear, but was faster than any other rider.
From the 42 riders in the Grand Prix ten represented the hosts. Among them Eszter Kalán with her homebred mare, Gareza, achieved the best Hungarian result with four points.
She was closely followed by Zoltán Lázár, Jnr. and Gyula Szuhai, also with four penalties. One fence fell for Zsófia Vándor and Leopard of Ballmore as well but they posted time penalties, too. Last year's best Hungarian performer Virág Weinhardt with Chiclana was less lucky, scoring eight points, like multiple CSIO winner in Budapest, Gábor Szabó, Jnr.
Ranking:
1. Angelos Touloupis – Lord Mexx
2. Jörne Sprehe – Hot Easy
3. Wout-Jan van der Schans – A S Bombay
4. Matheus Correa – Zeusz
5. Bart Lips – Davinci Z
6. Demi van Grunsven – Hucinta
7. Thibaut Keller – Happy Girl T
8. Omar Bonomelli – Chippendel de la Tour
9. Elian Baumann – Little Lumpi E
10. Christoph Obernauer – Kleons Renegade
11. Sophie Hinners – Cepano Baloubet
12. Eszter Kalán– Gareza
15. Zoltán Lázár, Jnr. – Diablo
20. Gyula Szuhai – Lawisangos
23. Zsófia Vándor – Leopard of Ballmore
25. Virág Weinhardt – Chiclana
26. Gábor Szabó, Jnr. – Chacrinue
29. Ágnes Ács-Heibl – Krokant
30. Tamás Mráz – Sanghata
The special prize of the Ministry of Defense was awarded to the placed riders by Gábor Schmidt, Deputy State Secretary for Sport. The winners were also presented a valuable glazed horse statue and the two porcelain vases by Bachar Najari, majority owner of Hungarian Zsolnay Porcelain Manufactory Zrt. Vilmos Lázár, President of the Hungarian Equestrian Federation, also congratulated the winners.
Tickets »
Photo: CSIO Budapest / Krisztina Hajdu