German Win in the Nations Cup, Hungarian Qualifier for the Warsaw Final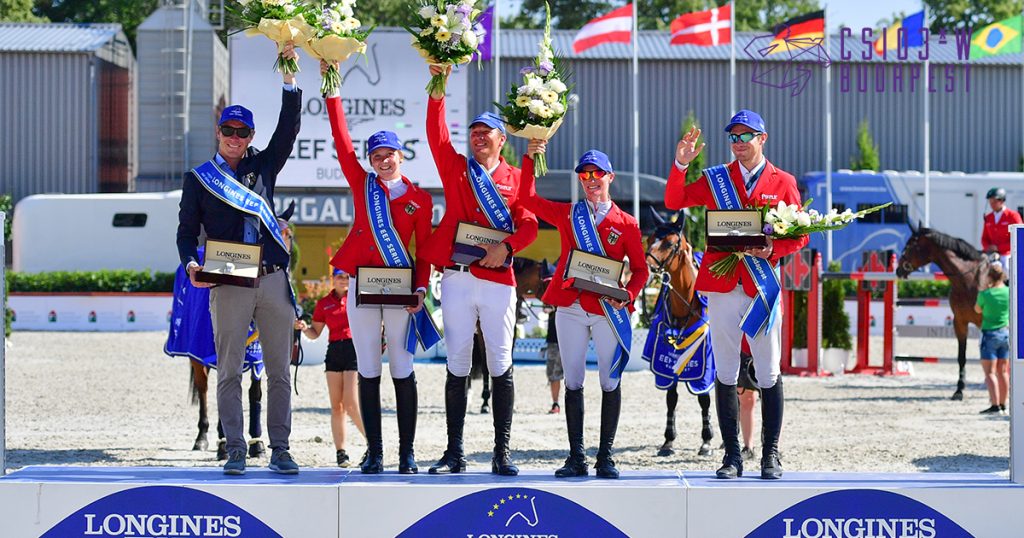 The featured event of the CSIO3*-W Budapest was the €110,000 Semi Final of the Longines EEF Nations Cup Series.
After a draw, the seven participating teams got on track in the following order: Germany, Hungary, Switzerland, Greece, Austria, Italy and the Netherlands.
The course was 480 metres long with 12 obstacles and 15 efforts, and the time limit, after three riders, was modified to 79 seconds.
In the first round, the fence following the water jump and the last vertical challenged the riders the most.
The first rider, German Marcel Marshall with Coolio, completed the first round with four points.
However, his teammates Sven Schlüsselburg, Sophie Hinners and Jörne Sprehe all finished with clear rides. So after the first round, Germany was in the lead with no penalties.
The first starter of the home team, Balázs Horváth with Quickchin Wh Z, ridden previously at the legs of the series in Bratislava and Mannheim, managed to make a clear round.
For Gábor Szabó, Jnr. and Vince Jármy, one fence fell, and András Kövy, Jnr. closed with eight points. With a total of 12 penalties, the Hungarian team took fourth place after the first round.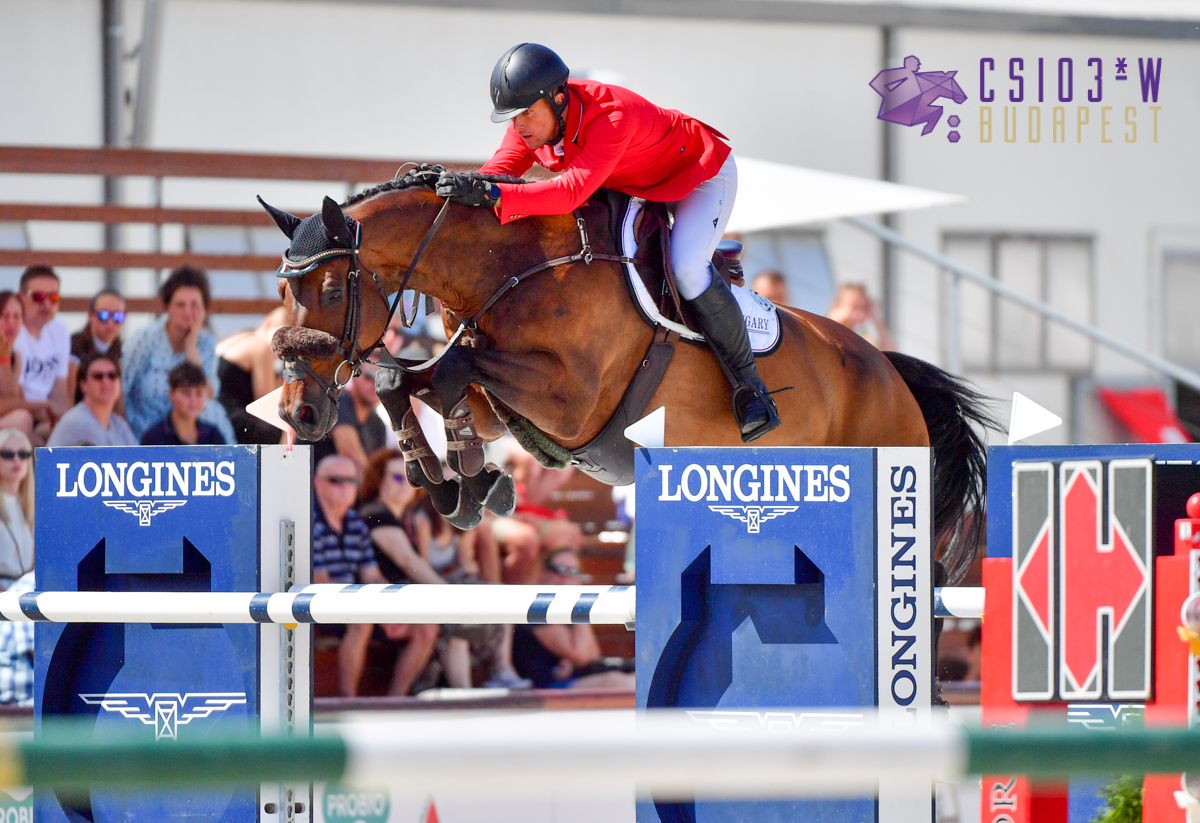 The Swiss team finished second with eight points.
The Greek riders had to battle the pressure too, as they had to manage with three riders instead of four in their team. Angelos Touloupis and Lord Mexx, winner of the Grand Prix of the weekend, finished this time with 4 points. After Emile Karim Fares's 8-point ride and Kriton Zafiropoulos' 11-point first round, the Greek team finished the first round in sixth place.
The Austrian fans could not complain as their team finished third with only four penalties. Two women riders, Katharina Rhomberg and Alessandra Reich, rode with no penalties, and for Gerfried Puck only one fence fell.
The Italian riders were not lucky this time and finished with 23 points in seventh, i.e. last place.
The Dutch riders were last to start the first round. Their riders made more mistakes than we have become used to seeing from them in the previous days. The pairs of Bart Lips – Hurricane D.D. and Teddy Van de Rijt – Gino left the course with 4 points each, while the pairs of Demi van Grunsven – Hucinta and Wout-Jan van der Schans – A S Bombay both left with 8 fault points, which put the team in fifth place.
In the second round, riders rode in reverse order. Few competitors improved on their previous results.
The Italian duo, Massimo Grossato and D Mark surprised the audience with a clear second round after a disastrous first one. Piergiorgio Bucci also managed a no penalties round and the third rider, Filippo Marco Bologni, finished with only four points.
The Dutch team's most experienced rider, Wout-Jan van der Schans and A S Bombay took a clear spin. Teddy Van de Rijt and Bart Lips both finished with four penalties.
For the Hungarian team, András Kövy, Jnr. delivered a clear round, but the other riders scored a total of 12 points.
The Austrian team started the second round only with three members as Katharina Rhomberg and Cuma retired. Gerfried Puck manged to ride a clear course but Alessandra Reich and Christoph Obernauer could not repeat this and the team posted 16 points in the end.
The Swiss team added again eight points to their total of the first round. Elian Baumann with Little Lumpi E rode clear, but Aurelia Loser and Romain Duguet each finished with one strike, while Edwin Smits closed with eight points.
Although the German riders gave their all for the win, Marcel Marschall and Coolio could not add to the team's score this time either. Two of the team's ladies, Sophie Hinners and Jörne Sprehe, also registered four points each.
Sven Schlüsselburg and Bud Spencer, however, managed what no one else in the entire field could – completing both rounds clear.
Greece's Angelos Touloupis and Lord Mexx regained their confidence for the second round, riding a clear course.
Final ranking:
1st Germany
Marcel Marschall – Coolio
Sven Schlüsselburg – Bud Spencer
Sophie Hinners – Million Dollar
Jörne Sprehe – Hot Easy
Chef d'Equipe: David Will
2nd Switzerland
Elian Baumann – Little Lumpy E
Aurelia Loser – Anaba Haize
Edwin Smits – Fleur Sinaa-A
Romain Duguet – Bel Canto de Boguin
Chef d'Equipe: Beat von Ballmoos
3rd Austria
Christoph Obernauer – Kleons Renegade
Alessandra Reich – Loyd
Katharina Rhomberg – Cuma
Gerfried Puck – Equitron Naxcel V
Chef d'Equipe: Christian Knoll
4th Netherlands
Bart Lips – Hurricane
Teddy Van de Rijt – Gino
Demi van Grunsven – Hucinta
Wout-Jan van der Schans – A S Bombay
Chef d'Equipe: Vincent Voorn
5th Hungary
Balázs Horváth – Quickchin Wh Z
Gábor Szabó Jr – Mezohegyes Chabala
András Kövy, Jnr. – Faquitol-S
Vince Jármy – Jb Koronaor
Chef d'Equipe: István Németh
6th Italy
Massimo Grossato – D Mark
Omar Bonomelli – Chippendel de la Tour
Filippo Marco Bologni – Quilazio
Piergiorgio Bucci – Carpe Diem J&F Champblanc
Chef d'Equipe: Marco Porro
7th Greece
Angelos Touloupis – Lord Mexx
Kriton Zafiropoulos – Dicaprio
Emile Karim Fares – Captain Z
Chef d'Equipe: Katerina Liberi
The German team's chef d'équipe David Will said after the race that he was very pleased with the result. "I knew before the race that we would be competitive with a very good team of ambitious and good riders who perform well under pressure, so I thought it would be easy. The course, although we came with good horses, had some tricky parts. There were mistakes at every hurdle by the riders before us, although we found the course fair and not everyone rode the same tricky line, I think the course designer did a great job.
After the results were announced, Dmitry Dmitriev, Longines Regional Director, presented Longines watches to the winning team members and chefs d'équipe, and was followed by congratulations from Kristóf Szalay-Bobrovniczky, Minister of Defence. The bouquets were presented by George Dimaras, Vice President of the European Equestrian Federation, followed by Vilmos Lázár, President of the Hungarian Equestrian Federation, congratulating the riders and team leaders on their excellent results.

Tickets »
Photo: CSIO Budapest / Krisztina Hajdu