The featured event of Thursday was the CSI3* 145cm contest for the NLSF Prize with a total prize money of €2,000 where riders could qualify for the World Cup competition on Saturday. Forty-six riders entered the contest against the clock.
The first rider in the field, Austrian Fritz Kögelnig Jun, scored a fast clear round. The following riders tried to be quicker but the Inter Horse Truck's steep and the next brown oxer caused difficulties, so Kögelnig was able to keep his leading position for long time. The 42nd rider Tamás Mráz and BN Silver broke the ice first and took the lead.
Péter Szuhai, the last starter on Chacco's Girlstar, was even speedier with two tenths of a second and captured victory. He is a participant of the NLSF (Hungarian National Equestrian and Sport Horse Breeding Development) Programme who managed to win the NLSF Prize.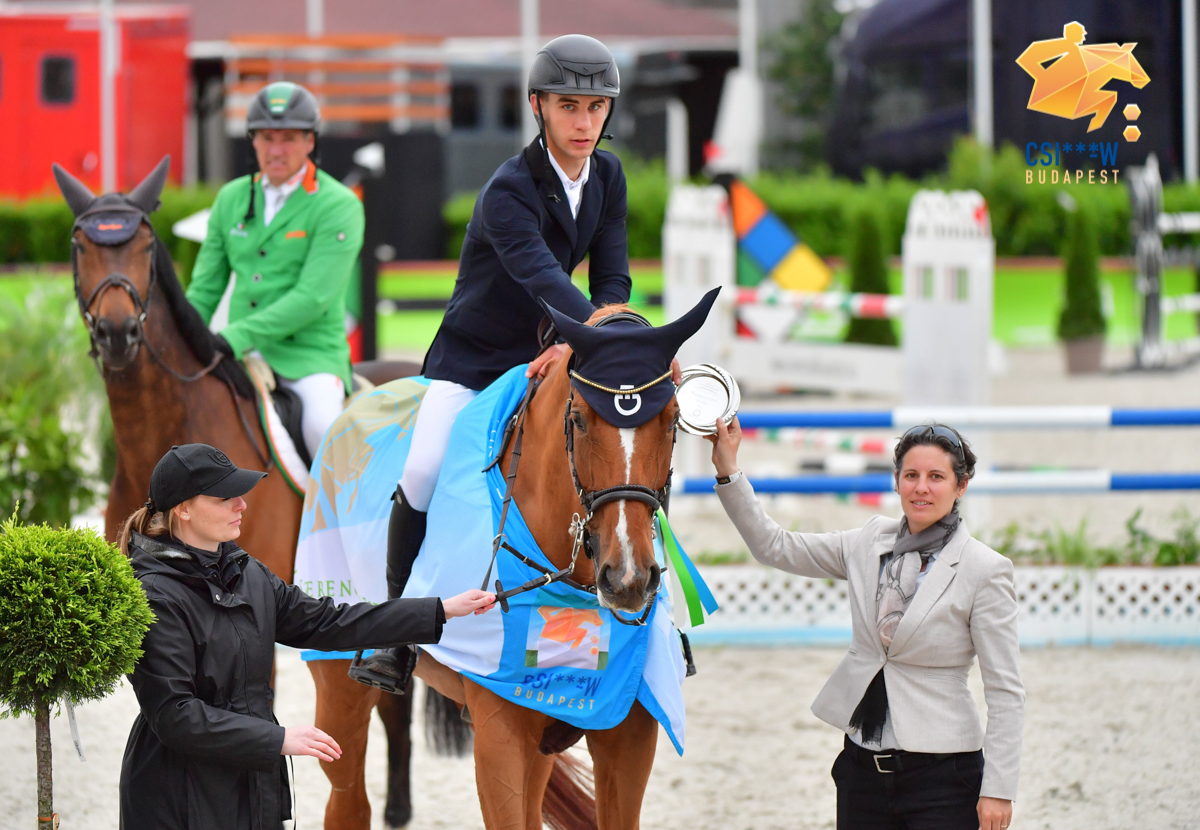 Third place went to Austrian Gerfried Puck on Equitron Melody, followed by Fritz Kogelnig, Jnr. on BG Ziro Percent and Constantin Cojocariu on Coco Chanel.
Other NLSF Program riders competed for the Word Cup qualification, too. Gábor Szabó, Jnr. on Mezőhegyes Chabala, Zoltán Lázár, Jnr. on Diablo and Vince Jármy on Chinoubet PS finished with clear rounds. András Kövy, Jnr. on E-UP scored four penatlies and Ferenc Szentirmai on Quandro Blue PS ten penalties.
The last event of the day was the 140cm CSI3* competition presented by Five Star Horse Auction. Forty riders tried their chance on the parkour with 12 obstacles and 14 efforts on 450 metres. Each rider set increasingly better times than the previous. The competition produced a succession of clearances and better and better times. First Christoph Obernauer on Kleons Can Fly, then Verena Haller on Cary Anne and later Barna Burucs looked invincible with their lightning-fast clear rounds, but the youngest rider in the field, Rodrigo Szuhai on Cornet crossed the line two seconds faster than any other participant.
The final ranking was as follows:
1st Rodrigo Szuhai – Cornet
2nd Henri Kovács – Tambourino
3rd Barna Burucs – Cesal P.H.
4th Verena Haller – Cary Anne
5th Christoph Obernauer – Kleons Can Fly
6th Angelos Touloupis – Del Rey of the Lowlands Z
Adrienn Becsey, representing Five Star Horse Auction, congratulated the winners.
The competition will continue on Friday at 9 A.M. with the 125cm CSI* Small Tour presented by Moody Mares Riding Shop. Entry is free of charge.
The main sponsor of the event is Szerencsejáték Zrt.
Photo: CSIO Budapest / Krisztina Hajdu