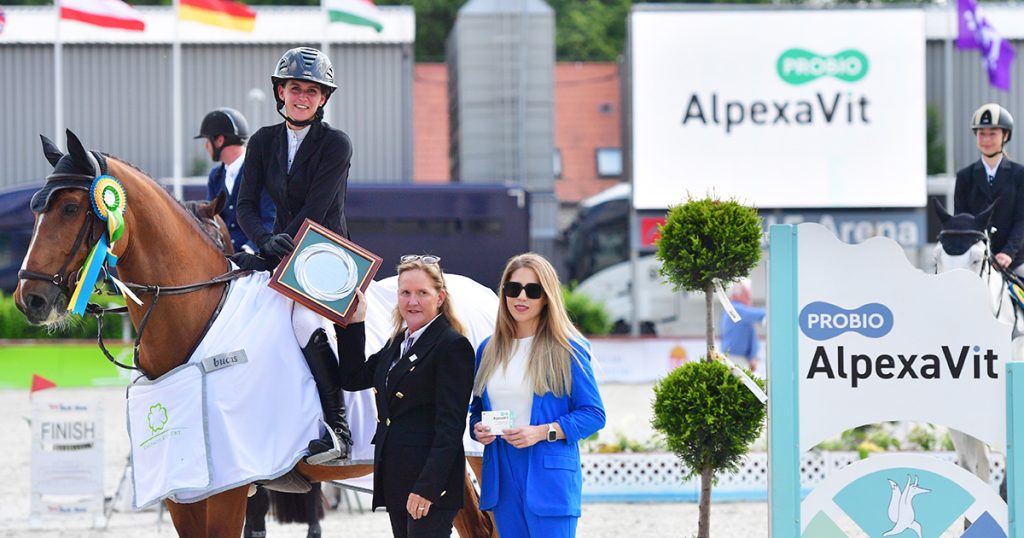 The final of the 140cm Big Tour involved 23 riders competing for the Alpexavit prize with a jump-off. On the international course designed by Werner Deeg, the first clear was recorded by the jury for the Czech pair Tina Larysova and Ibsen, followed by nine other pairs completing ten rides in the final jump-off.
It is never an easy task for the first rider to start in the jump-off, as you never know how fast the other riders will be. So Tina Larysova had to aim for a clear round, and she succeeded. The next competitor, Katrin Pfingstl with No Mercy, was not in a hurry, but she rode a slightly better time. The pair of Tobias Pfingstl and Equitron Junior had a risk assessment problem, as the rider planned to take more risk to win than his horse. At the beginning of the short course this only led to a jump that could be saved, but at the last obstacle it led to a penalty.
Slovakia's Dominika Gaalova and Phenyo van het Keysersbos also finished with a penalty. After that, the audience was treated to a lightning-fast Hungarian success: the red, white and green riders took the lead: firstly Ferenc Eszes and Kansas VL, then András Kövy, Jnr. and Casallandia PS, then .
However, Helena Cassir on Puickly VD Bisschop, who was next in line, managed to improve her time with a fast but not hurried ride, eventually achieving the fastest clear in the overall classification.
Virág Budai finished with one penalty, while Roland Kovacs managed to set the second best time.
The riders were called in the following order for the announcement of the results:
Helena Cassir – Puickly VD Bisschop
Roland Kovács – Kánaán
Éva Bohák-Debreczeni – Cortez
András Kövy, Jnr. – Casallandia PS
Ferenc Eszes – Kansas VL
Tina Larysova – Ibsen
Katrin Pfingstl – Mercy
Tobias Pfingstl – Equitron Junior
The riders were congratulated by Petra and Dóra Hajdú on behalf of Alpexavit and by Dervilla Cambell-Grieve on behalf of the jury.
The main sponsor of the event is Szerencsejáték Zrt.
Photo: CSIO Budapest / Krisztina Hajdu