Longines FEI Nations Cup™ Jumping of Hungary CSIO5* Budapest verseny pénteki napjának fénypontja a Longines Nagydíj volt. A nézők által legjobban várt versenyszámban 100.000 eurós összdíjazásért, a Herendi Porcelánmanufaktúra ajándéktárgyaiért és a győztesnek járó Longines karóráért szálltak harcba a résztvevő lovasok. A szabályok szerinti legmagasabb, 160 centiméteres alappályán 13 számozott akadály és összesen 16 erőkifejtés várta a versenyzőket, ami vonalvezetésében is méltán kiérdemelte a világszínvonalú jelzőt.
Az ötven indulós mezőnyből tízen tudták verőhiba nélkül teljesíteni az alappályát, viszont ketten, a törökök olimpikonja, Ömer Karaevli és a világkupa döntőn részt vett lengyel, Kazmierczak Michal szerencsétlen módon időbüntetés miatt nem jutottak be az összevetésbe, ahova Krucsó Szabolcs viszont kvalifikálta magát a közönség nagy örömére.
Szabolcs a csütörtök esti sorsoláson az egyes számot húzta, így neki kellett megkezdenie a versenyt és az összevetést egyaránt, ami nem sok taktikázásra adott módot. De ennek ellenére iskolapályát mutatott be a Kórusz Attila tulajdonában álló Chacco Blue II-vel (Chacco-Blue / Cincaba Rouge), minden lehetséges rövidítési lehetőséget kihasználva hatalmas iramban teljesítette a pályát 42,11 századmásodperc alatt, ami végül a bronzérmet jelentette a párosnak.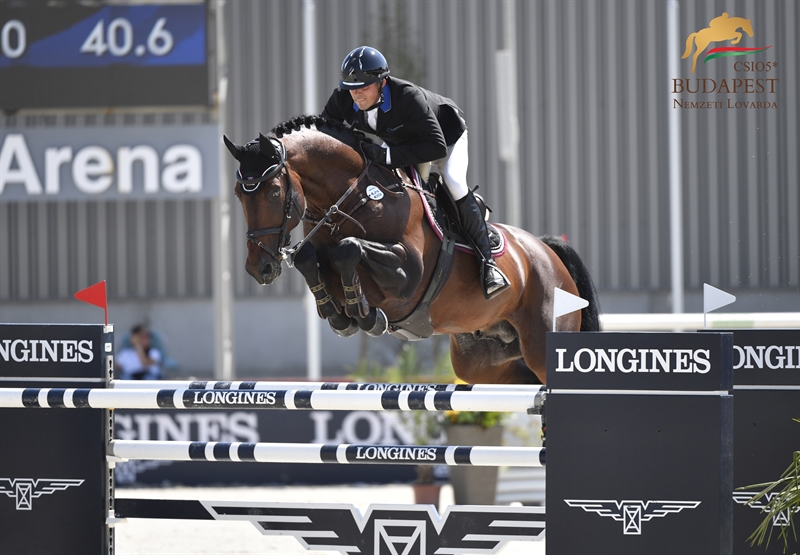 Krucsó Szabolcs és Chacco Blue II
Az összevetés utolsó két indulója tudott csak nála gyorsabban lovagolni, akik közül a németből lett osztrák Max Kühner kerekedett felül. A győztes fedezőmén, Cielito Lindo 2 (Clarimo / Stauffenberg) tulajdonosa a Haupt- und Landesgestüt Schwaiganger, anyai nagyapja az a Stauffenberg, aki Magyarországon is sok éven keresztül versenyzett és fedezett.
Max Kühner és Cielito Lindo 2
Második helyen végzett a világ egyik legeredményesebb díjugratója, Emanuele Guadiano a magyar Equita Kft. tulajdonában álló Chalouval (Chacco Blue / Baloubet du Rouet).
Emanuele Guadiano és Chalou
A 2015-ös CSIO nagydíjának győztese, Sören Pedersen ezúttal a negyedik helyet szerezte meg a Longines Nagydíjban Tailormade Chaloubet (Chacco-Blue / Baloubet du Rouet) nyergében.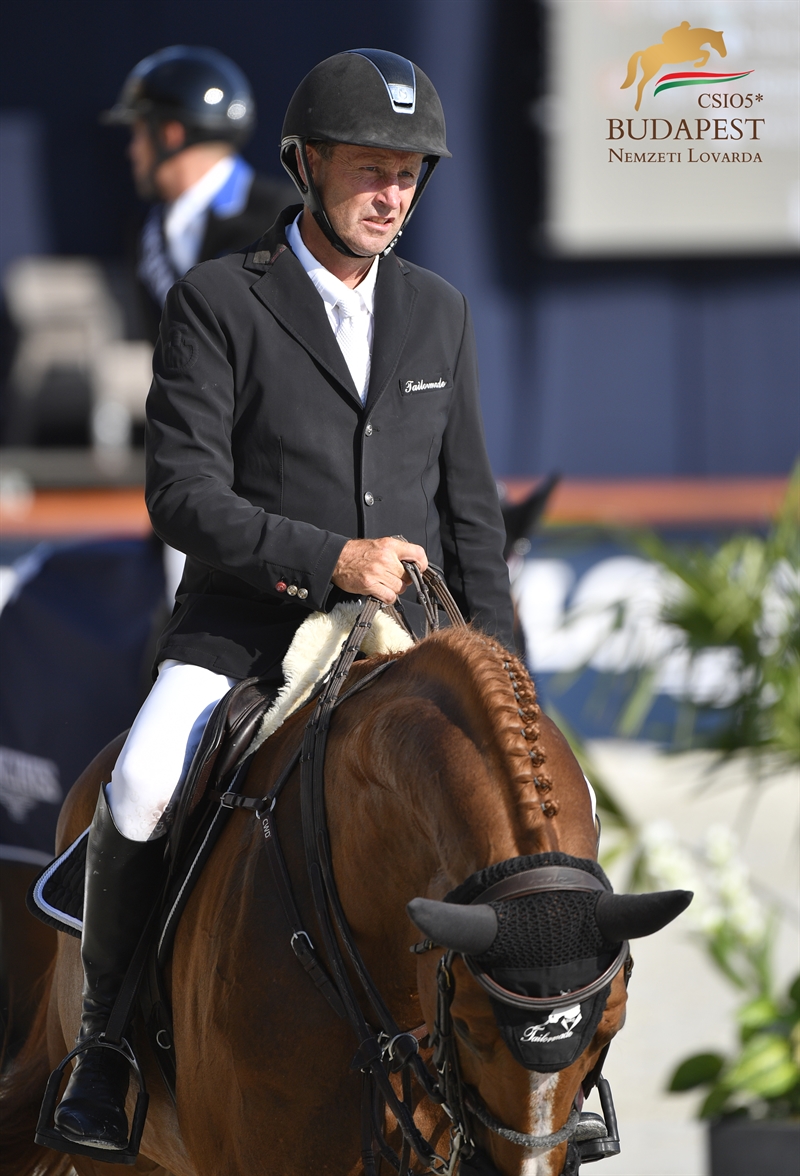 Sören Pedersen – Tailormade Chaloubet
Hibátlanul lovagolt még az összevetésben a norvég Victoria Gulliksen, aki ezzel az ötödik helyet szerezte meg.
Victoria Gulliksen – Viego Les Hauts
Hatodik pedig az angol Jamie Gornall Carstennel.
Jamie Gornall és Carsten
A többi magyar lovas is nagyszerűen szerepelt ezen a rendkívüli nehézségű pályán, egy verőhibával végzett Szász Sándor és ifj. Kövy András, ifj, Szabó Gábor pedig 8 hibaponttal zárta a versenyszámot.
Fotó: CSIO Budapest / Hajdu Krisztina