Longines FEI Nations Cup™ Jumping of Hungary CSIO5* Budapest szombati napja is a fiatal lovak fináléjával indult.
A 125-130 centiméteres összevetéses versenyszámban a 6 és7 éves lovak álltak starthoz a Magyar Sportlótenyésztők Egyesületének díjáért. Meglepően sok, összesen tizennyolc lovas tudta hiba nélkül teljesíteni a világ elitjébe tartozó pályaépítő, Werner Deeg által megálmodott alappályát.
Az összevetésben magasan a leggyorsabb lovaglást a portugál válogatott tagja, Rodrigo Giesteira Almeide mutatta be Lycero St. Hubert (Cicero van Paemel Z / Lys de Darmen) nevű lován.
Rodrigo Giesteira Almeide – Lycero St. Hubert
Második helyen a törökök olimpikonja, Ömer Karaevli végzett 6 éves holland lovával, Hayley-val (Carembar de Muze / Balou du Rouet).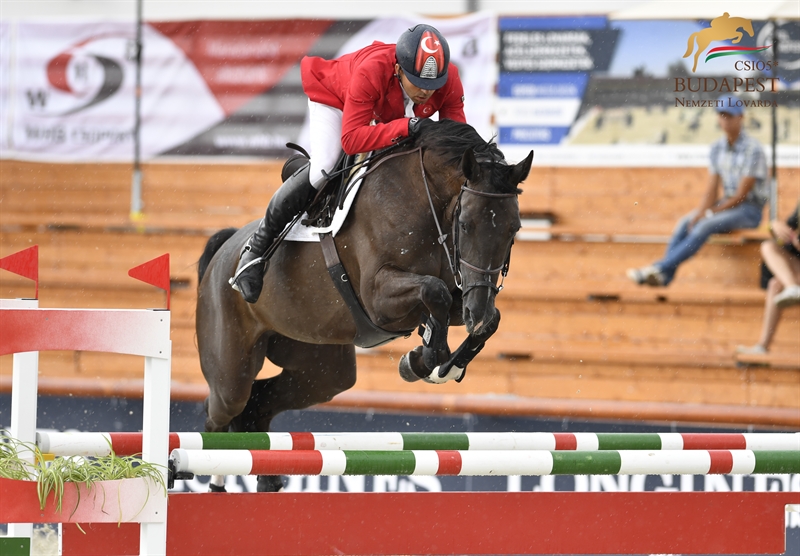 Ömer Karaevli – Hayley
A pénteki Longines Nagydíj győztese, Max Kühner fiatal lovával, Elektric Blue P-vel (Eldorado v.d. Zeshoek / For Pleasure) is végig eredményesen szerepelt. Egy első és egy hatodik hely után most bronzérmes pozícióban zárta a versenyszámot.
Max Kühner – Elektric Blue P
A lejobb magyar eredményt Füzér Gábor érte el, a Weinhardt Virág tulajdonában álló Cym Carlsson S (Claudio s Son / New Time) nyergében, ami a hetedik helyet jelentette számukra.
Füzér Gábor – Cym Carlsson S
A legjobb magyar tenyésztésű ló az ifj. Szabó Gábor által lovagolt Medáll (Quirado / Merano I-38) volt, a páros villámgyors lovaglással, viszont egy verőhiba miatt csúszott le a helyezésről. Hibátlanul teljesítette az alappályát még ifj. Lázár Zoltán, Jármy Vince, Faluhelyi Ádám és Técsy Attila is.
Fotó: CSIO Budapest / Hajdu Krisztina