Teltház előtt zajlott a Longines FEI Nations Cup™ Jumping of Hungary CSIO5* Budapest legjobban várt versenyszáma, a 200.000 euró összdíjazású Nemzetek Díja.
A versenyt a Nemzetközi Lovasszövetség (FEI) elnöke, Ingmar De Vos is megtisztelte látogatásával, első alkalommal ellátogatva Magyarországra. Maximálisan elégedett volt a verseny színvonalával, véleménye szerint a Nemzeti Lovarda világszínvonalú versenyek megrendezésére is kiválóan alkalmas.
A nemzetközi szinten legmagasabb minősítéssel rendelkező pályaépítő, Werner Deeg egy remekül lovagolható, de a végeredményt egyértelműen eldöntő pályát álmodott meg. A 160 centiméteres pályán 15 erőkifejtés várta a lovasokat, amit a versenyzőknek kétszer kellett teljesíteniük mindössze fél órás különbséggel a kánikulai melegben, ami komoly megterhelés volt a párosoknak.
A mai napon az osztrákok legyőzhetetlennek bizonyultak, hat hibátlan pályával megérdemelten nyerték a versenyszámot. A verseny három dupla hibátlan lovaglása közül kettőt a Marcus Wallishauser által vezetett csapattól láthattunk, mégpedig Julia Houtzager-Kayser és Felix Koller remek teljesítményének köszönhetően, de a csapat két másik tagja, Christian Rhomberg és Max Kühner is hozzátettek egy-egy hibátlant a végeredményhez.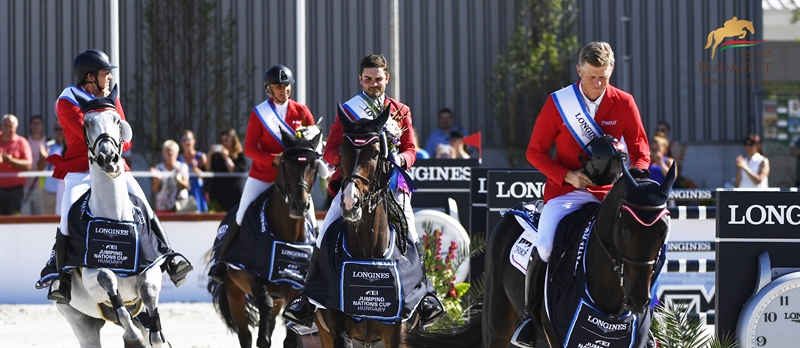 A győzteseknek járó Longines karórákat Dmitry Dmitriev, a Longines régióigazgatója adta át, illetve a helyezett lovasoknak Ingmar De Vos, a Nemzetközi Lovasszövetség (FEI) elnöke, dr. Nagy István agrárminiszter és Lázár Vilmos, a Magyar Lovassport Szövetség elnöke gratulált (borítókép).
Nemzetünk lovasai is megérdemelten vehették át a második helyezettnek járó díjat, hiszen a Németh István szövetségi kapitány által vezetett csapat végig kiegyensúlyozott lovaglással mindkét fordulóban egyaránt jól szerepelt.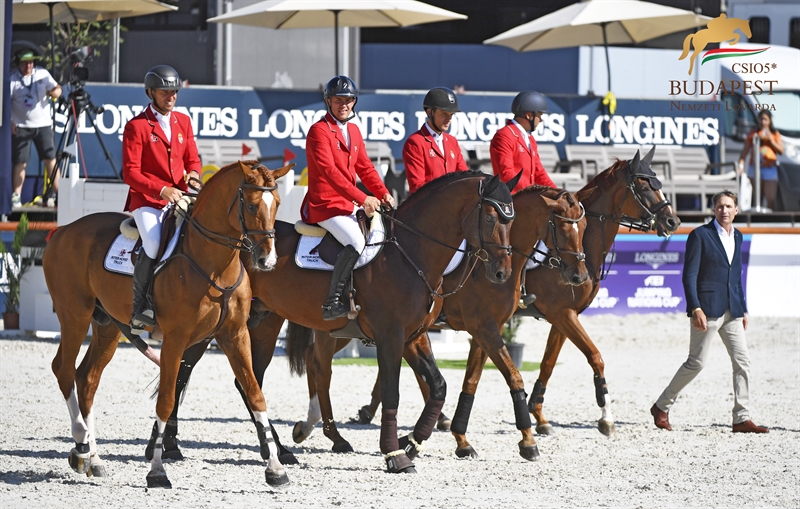 Krucsó Szabolcs és Chacco Blue II. egy hibátlan pályával, és a második körben a kettes számú sárga meredeken egy szerencsétlen verőhibával zárta a számot, ami mellesleg a páros egyetlen verőhibája volt az egész versenyen.
Krucsó Szabolcs – Chacco Blue II.
Ifj. Szabó Gábor és Timpex Bölcsész az első körben egy verőhibával – Bölcsész a hátsó lábával ért hozzá a Lánchidat szimbolizáló meredek felső rúdjához – és a második körben egy gyönyörű hibátlannal járultak hozzá a magyar sikerhez.
Ifj. Szabó Gábor – Timpex Bölcsész
Hugyecz Mariann lovának sérülése miatt ifj. Kövy András ugrott be a csapatba tartalékként Heurékával, a páros két-két verőhibás teljesítményével bebizonyította, hogy van helyük ebben a mezőnyben.
ifj. Kövy András – Heuréka
Legrutinosabb Nemezetek Díja lovasunk, Horváth Balázs zárta a sort Zordonnal, aki remekül bírta a rá nehezedő nyomást, és első körben egy hibátlannal, második körben pedig egy verőhibával bebiztosította a csapat második helyét még a szám vége előtt.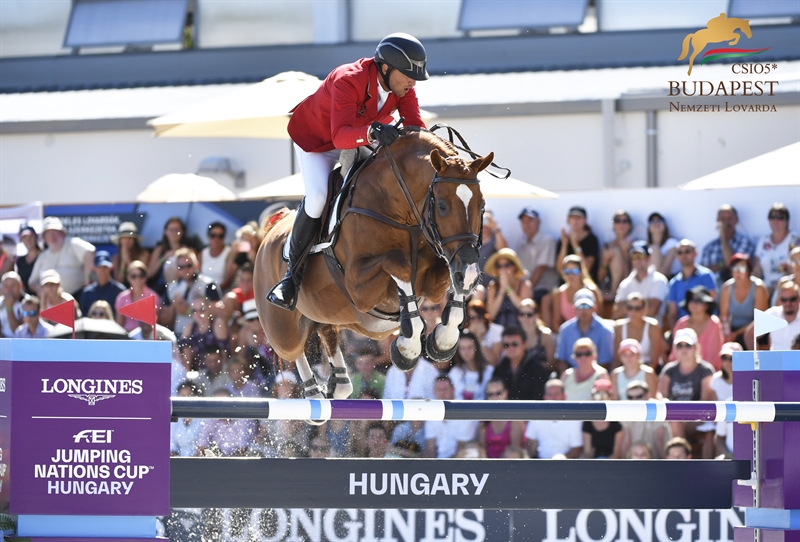 Horváth Balázs – Zordon
Ezzel az eredménnyel pedig a magyar válogatott történelmi sikert ér el, hiszen az osztrákokkal együtt kijutott az október 5-7. között megrendezésre kerülő Nemzetek Díja sorozat döntőjébe, Barcelonába, amire nem volt még példa idáig.
A norvég különítmény végzett a harmadik helyen, akiknek nem titkolt célunk volt a győzelem. A Mikael Kolind által felkészített csapatot a Gulliksen család (Victoria, Johan-Sebastian és Geir) alkotta, kiegészülve a FEI Young Rider Academy tagjával, Lisa Ulvennel. Geir Gulliksen briliáns dupla hibátlan teljesítménye ellenére a csapat tizenhárom hibaponttal zárta a versenyt.
Az egyik esélyesként induló Portugália végzett a negyedik, Csehország pedig az ötödik helyen egyaránt húsz-húsz hibaponttal. Lengyelország 24, Görögország 38, Bulgária 52 hibaponttal zárta a versenyt.
Kihívásokkal teli ősz vár a magyar válogatottra, hiszen szeptemberben a csapat az Egyesült Állomokba utazik a világbajnokságra, majd október elején pedig Barcelonában kell helyt állniuk a Longines FEI Nations Cup™ döntőjében.
További sok sikert kívánunk lovasainknak ezeken a megmérettetéseken is, gratulálunk a csapat összes tagjának és Németh István szövetségi kapitánynak ehhez a fantasztikus sikerhez.
Fotó: CSIO Budapest / Hajdu Krisztina