A Széchenyi István Emlékverseny programjának utolsó előtti versenyszáma az U25 korosztály részére kiírt döntő volt a Sauska Pincészetek díjáért. A 135 centiméteres alappályát viszonylag sokan, tizenhárman tudták hiba nélkül teljesíteni, így ők jutottak be az emelt magasságon tartott összevetésbe.
Az elődöntő győztese, a német Daniela Theelen most is hihetetlen tempót diktált, így Coupon nevű lovával mindenkit maga mögé utasított, ezzel megszerezve a győzelmet az U25 döntőjében.
Szabó-Máriás Sára mindkét lovával hibátlanul lovagolt az alappályán, így meg lehetett kockáztatni, hogy a dobogó valamelyik fokán legalább egy helyet lefoglal magának, hiszen rendkívül gyorsak és precízek a lovai. Medállal végül a második, Cantus Clay nevű lovával pedig a harmadik helyet tudta megszerezni.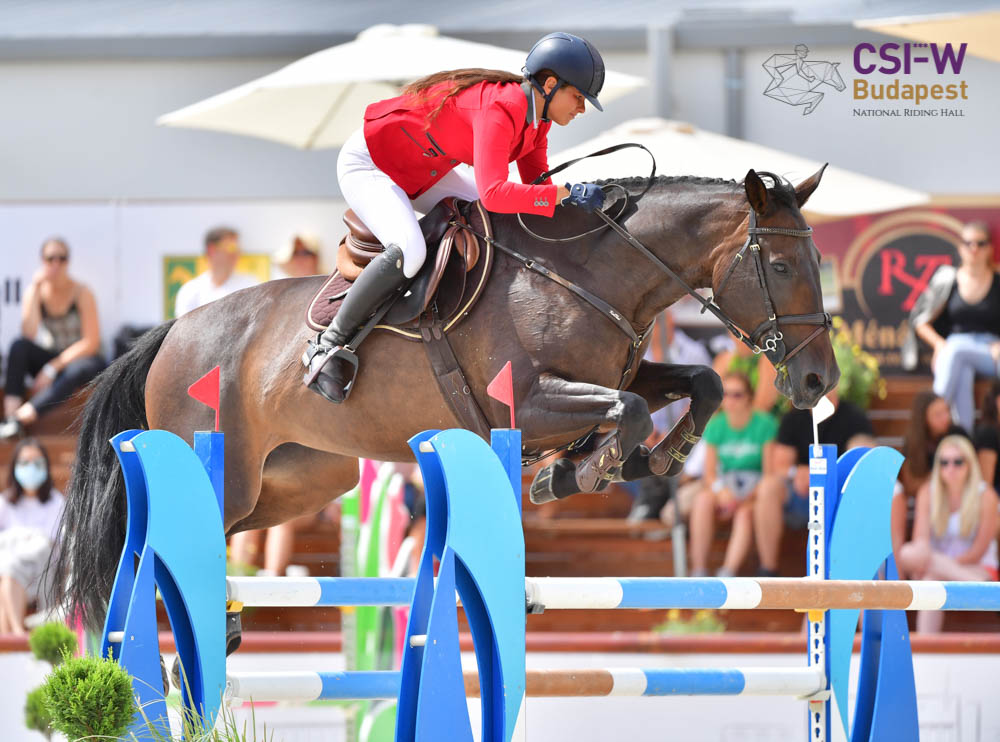 A negyedik helyen Szilágyi Sándor Márk végzett Georgie's Valentin nyergében, megelőzve Kiss Dominikát a mindössze hét éves Dyrával. Hatodik lett Kovács Roland és Remember Me the Ganad, hetedik Illés-Tóth Lotti Cosmoval, nyolcadik pedig a Prosper Lovasklub versenyzője, Gimesi Lorena és Falkyrie.
A rendezvényt az érdeklődők otthonuk kényelméből is figyelemmel kísérhetik. A legrangosabb versenyszámok az M4 Sport csatornán is láthatóak lesznek. A versenyszámokat a Riderline folyamatosan élőben közvetíti:
Tovább a a CSI***-W Díjugrató Verseny részletes programjára >>
A CSI***-W Díjugrató Versenyen érvényes járványvédelmi intézkedések >>
Fotó: CSIO Budapest / Hajdu Krisztina